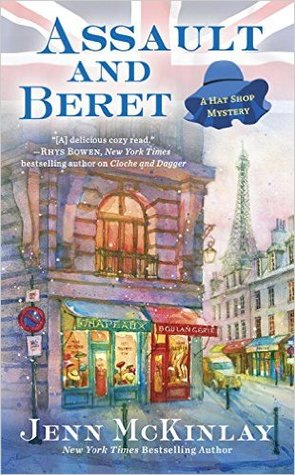 Allons-y to Paris for more hats and homicide from the New York Times bestselling author of Copy Cap Murder!
London milliner Vivian Tremont and her American cousin and partner, Scarlett Parker, tip their caps to their beloved shop on Portobello Road in Notting Hill and set off for Paris, where Viv can't wait to teach a hat-making class. But she has another reason to travel to the City of Light: to find the man she impulsively eloped with years ago and have their marriage annulled.
William Graham is not only handsome and charming, but he also has a glamorous job as an insurance investigator who works with priceless pieces of art, most recently a small Renoir that has been discovered in a junk shop. But when both Will and the masterpiece suddenly disappear, it's up to the ladies from London to follow the trail of clues. They'll need to hold on to their chapeaux, however, because someone is a master in the art of deception…
I heard from a good source that this is the final Hat Shop Mystery. And if that is true then Ms McKinlay has given us another really good story and tied up things very nicely!
Viv and Scarlett are charming characters and there friends are just as charming.
When the mysterious husband disappears right before their eyes, reinforcements are called for and the dashing Harry drops everything to rush to Paris and play detective with his crush, Scarlett.
As things turn nasty all her friends hop on a plane to help rescue William and the priceless painting. But is William really who we thought he was? And does he indeed need saving? Or will Scarlett get her pretty little nosed bashed sticking it into the dangerous world of art forgeries, illegal sales and some very shady ladies!
Good Job Jenn! I enjoyed every one of the characters, even the nasty ones were all very well done.
Hopefully we will still have the Cupcake series to fall back on!